TAN SRI LIM KIM HONG
Non-Executive Chairman
Tan Sri Lim Kim Hong, aged 72, Malaysian male, was appointed to the Board on 15 July 1999. He is currently the Group's Non-Executive Chairman and has vast experience in business, marketing and corporate matters as well as has a keen sense of business acumen.
Tan Sri Lim was responsible for the successful listing of Sumurwang Sdn Bhd's ("Sumurwang") manufacturing arm, Dreamland Holdings Berhad on the Kuala Lumpur Stock Exchange (now known as Bursa Malaysia Securities Berhad) in 1987 while he was the Chief Executive Officer of Dreamland Holdings Berhad.
In 1991, he diversified Dreamland Holdings Berhad into the steel industry and subsequently changed its name to Kanzen Berhad ("Kanzen"). In late 1993, he divested Sumurwang's interest in Kanzen to reorganise Sumurwang's corporate structure to focus on three business areas – property development, manufacturing and financial services.
In 1999, Tan Sri Lim acquired I-Berhad through Sumurwang and steered the Group into property development, property investment, leisure and ICT solutions businesses through the i-City Golden Triangle, a smart integrated freehold ultrapolis development with MSC Malaysia Cybercentre Status with gross development value of RM10 billion. i-City Golden Triangle has been endorsed as an International Park by the Selangor State Government and a unique Tourism Destination by Tourism Malaysia.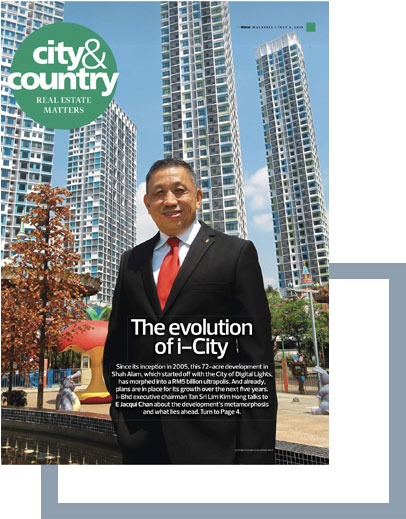 Executive Director / Chief Executive Officer
Non-Independent Non-Executive Director
Independent Non-Executive Director
Independent Non-Executive Director
Independent Non-Executive Director